So you want to know more about becoming a freelance writer?
Sign up here for a FREE video just for you!

In this video, you'll learn:
What you need — and what you DON'T need — to get started
How much to charge when you're a beginner
Where to find writing jobs and clients
and more!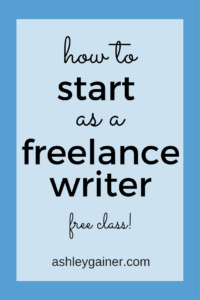 I've been freelancing since 2010, so I've been around the block a few times. I know where newbie freelancers get bogged down, intimidated, and completely stuck. And I'm a mom with little tiny kiddos, so I know the particular challenges that we moms are up against when it comes to getting any kind of work-from-home scenario up and running.
I also know what you need to DO to get your freelance writing dreams off the ground and start making actual money from home.
I made this video for you.
I LOVE freelance writing because it's what's allowed me to be the mom I always wanted to be — at home with my kids — while still being able to get the bills paid. (Even as a single mom with no other income!)
Now it's your turn.

You can do this!