This blog post is a guest submission by Abby Hood, a fellow freelance writer and journalist. You can learn more about Abby at the end of the post. 
If there's one thing 2020 has forced a lot of writers to do, it's that we've all had to get a lot more flexible and creative. In my six years as a freelance writer I've never needed to diversify my income so much, and now that I'm full-time it's even more important.
As a journalist and copywriter I've learned cold emails and pitches are very different, and land different types of work. Cold emails and pitches are, at their core, just emails, but their execution and use couldn't be more different. So, what kinds of emails should you be sending to find clients, and why? Let's dig in!
What is a Cold Email, and When Do I Use It?
Ashley covered this so well in her episode on this subject. In short, cold emails are primarily for business introductions and finding work, like landing new copywriting clients. They're longer, often in the ballpark of 300 words, especially if you follow the letter of introduction method many copywriters use. You can use cold emails to pitch all sorts of copywriting work including blog posts, sales pages, email newsletters, social media copy and more.
Although it takes time to build a working relationship with copywriting clients and some may start you out on a trial post or two, your goal with cold emails is usually to get ongoing copywriting work, or a retainer, not a single post or story. Your email should explain to the potential client how you can help them, ask questions about their business and include personalized solutions and info. Long, boring emails that focus on you and read like a resume are sure to be overlooked.
Cold Email Tips
One thing you might want to include in your cold email is a clear next step, like proposing a discovery or sales call to learn more about the potential client's needs.

Cold emails should be addressed to the content manager or marketing director if possible—not the owner, CEO or general info box.

Warm it up a little! Make cold emails a little more warm by finding your contact on LinkedIn and sending a connection request, or interacting with them on another social platform. Each little interaction makes you more memorable.

Follow up as frequently as every week.
What is a Pitch, and When Do I Use It?
A pitch is a very different kind of email and is primarily used for landing single stories in news media. Many journalists and copywriters cross over from time to time, as I'm sure you know if you're reading this post! Pitches can be sent for all kinds of stories, including op-eds, reviews and personal essays. You can also use pitches for one-off blog posts, especially helpful if you're running a PR campaign and want to include blogging.
Pitches should ideally be as short as possible, under 300 words. My record for shortest pitch that landed a story is just 117 words, not including my intro and closing signature. Pitches should include a little more personal information, like which publications you've written for before, where you're located and any other relevant experience. You want to demonstrate not just that your idea is good, but that you're the right writer to write it.
Be sure to include extra details about who you'll interview, how long it will take to report and a target word count, if you're pitching a real news or feature story. It should be addressed to the specific editor for that publication's section, or again to the specific content manager for a company you may be pitching a single blog post to.
Pitching Tips
You don't need to include an action step or ask for a phone call; the action you're hoping for (aka your story being published) should already be clear!

Always be sure to include your portfolio link. If you don't have previously published work you can rely on lived experience, like living through an issue you're writing about. Job experience and previous writing, even if it's in another niche area or topic, also counts!

Follow up every few days if it's a timely news story, less so if it's evergreen or a less-timely blog post. 
We can't say what 2021 will hold in terms of how the copywriting or news industry will change, but that's okay—you can prepare now for almost any situation you'll face.
Not landing enough copywriting work and want to try your hand at op-eds? Ready to pitch a one-off blog post to help highlight a project you'd like to promote? Or, if you're a journalist, need to increase your income drastically with a steady, retainer copywriting client?
Each of these is a possibility, and if you're skilled at both cold emails and pitches you're prepared for all of them. In truth, most writers need both skills, and knowing when to send a cold email versus when to send a pitch could make or break your income for the month. 
Consider it a business investment to work on both and you can count on a more stable, exciting year ahead!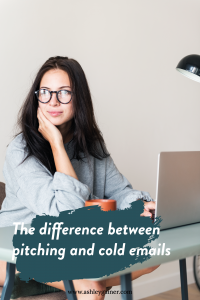 Abby Lee Hood is a Nashville-based freelance writer with six years of both journalism and copywriting experience. They live with their rescue cat and hedgehog and enjoy covering Appalachian and Southern U.S. issues. They've previously published bylines in Huffington Post, Teen Vogue, Insider, MTV, and many more. You can find more of their work in their portfolio or join them on Twitter for more writerly ramblings.