Yes! You can have a writing career!
Yes! You can have a writing career!
..with courses and training created by a seasoned writer
to help you get started and level up as a freelance writer...
Help me pick a writing niche
Just tell me how to get started!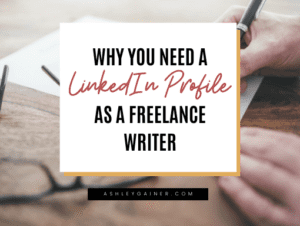 You need a LinkedIn profile if you're serious about freelancing. Here's why: I recently did some digging into my students' success stories. And you know what? The successful ones all have a LinkedIn profile.  I also did some poking around with my colleagues and peers. Same thing… they all have LinkedIn profiles. Now, these profiles […]
Join the Ink Well Guild on Facebook!
Make friends, talk shop, and get friendly support whenever you need it.