Let's talk about the air around us.
If you share my not-so-secret Enneagram inclination, you may know that when I say I'm a 5 with a 4 wing, I'm (in part) saying that I need beauty in my environment because I spend a lot of time in it.
I'd venture that we're pretty much all this way – affected by our immediate environments, I mean. Maybe you thrive in chaos, with piles and colors and classic rock humming on the radio. Or maybe you need calm, order, flat surfaces and blank walls save for one exquisite print in a sublime frame.

Me, I do best when my surroundings have beauty. So when I moved into a dark, 30-year-old house and looked for some simple ways to bring in ongoing air purification, my first criterion was: will the sight of this annoy me? This was especially important because my "office" is a corner of my living room, and I'm here a lot.
(Note: I ask myself if something will annoy me when I consider my son's toys, too. It makes a huge difference in your environment when you aren't surrounded by stuff that gets on your nerves!)
Here are three simple, natural ways to bring in some beautiful, natural air purification to your home or office while doing your lungs a favor:
Himalayan Salt Lamps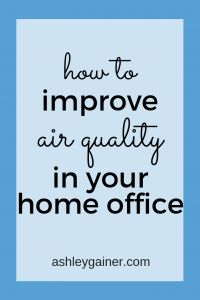 The idea behind the salt lamp is that the heat from the bulb inside the block of (fabulous) pink salt encourages the release of negative ions, which neutralize the positive ions that gum up the works in our bodies and brains. Bonus: these lamps are very pretty when lit, throwing off a warm orange glow. I've seen these at several 10,000 Villages shops, and Amazon often drops the price on this one enough to make it accessible even for tiny budgets, and I've also found great deals on salt lamps at HomeGoods, too.
Plants
I heard P. Allen Smith say on one of his many PBS shows (nerd alert!) that for indoor air purification, you need one houseplant for every 100 square feet. BHG has some great examples of low-maintenance houseplants here, but skip the jade plant and the fiddle-leaf fig if you've got a thumb that isn't decidedly green. My thumb is only sorta greenish, and I didn't have successful experiences with either of those guys. Pro tip: pay attention to the lighting requirements and be realistic about what kind of light your place gets.
Also, here's a good list of air-purifying plants from David at bestpicko.com.
Beeswax Candles
Yum, right? Most candles make my throat hurt, but not these! Beeswax candles don't release soot or smoke when they burn, but they do release those happy negative ions that are such a boost. Plus, they smell divine. Toadily Handmade is widely recommended, and it's also easy to find beeswax candles at local markets and artisan shops.
If Form is 1 and Function is 10, where does your priority fall on the scale?