Plenty of factors play into improving your content. One of the most significant — the very foundation of all your content — is your ability to write well. Every blog post, every social media update, every infographic… it all comes down to pulling together your words, effectively.
There are countless ways to improve your writing, whether you're a blogger, a self-published author, a copywriter, an email marketer….you get the idea. Here are three specific tips to improve your writing that I think are pretty effective, and you can start implementing them right about now.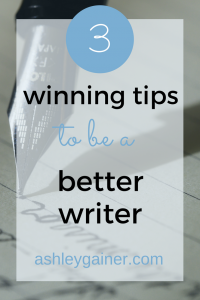 1. Edit. After you finish a draft of your next content piece, let it rest and do an in-depth self-edit it the next day. Print it out and mark it up with a pen that you like. Read it out loud like a weirdo and circle the phrases that don't work. Your next draft will be tremendously improved.
2. Read. Read actual books and (gasp) newspapers and magazines, the ones made of paper. Read blogs about writing and blogs in your niche. Don't read so many news feeds. Pick up one of those books that have been languishing on a shelf for too long, or study the next credit card offer letter for its structure and language.
3. Write. Writing every day is the best way to be a better writer. If you don't have any client work, write something anyway and post it on your blog, send it to your list, or record yourself reading it and put that on YouTube. But write something, every day.
Following these tips on a regular, if not daily, basis will lead to stronger writing chops, better ideas, and (perhaps most significantly) the confidence to create innovative, engaging content that will impress your clients and engage your target audience. Now get to it!